Shingles - CertainTeed - Ridge Cap Shingles & Starters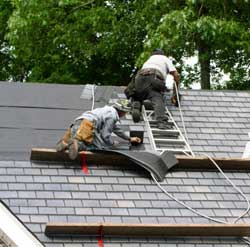 High Performance Starters
High Performance Starter are starter course shingles specifically for use with Grand Manor, Centennial Slate and Hatteras shingles - and the only approved installation alternative to using the shingles themselves.
High Performance Starter meets the accessory requirements for the CertainTeed Integrity Roof System™ which is comprised of underlayments, shingles, accessory products and ventilation all working together. The Integrity Roof System is designed to provide optimum performance--no matter how bad the weather conditions are.
View the Shingles to Use with High Performance Starters